07 avril 2012
Shopping in England
It's the dream of lots of people.
Is it yours ?
Everyday from Monday, April 1st to Friday, April 5th 2012 , we visited different cities in England.
The first day, on April 1st, in the morning we went to Canterbury and we were allowed to do some shopping for two hours and a half in the streets of Canterbury where we did what we wanted to. In front of the Cathedral there were lots of gift shops but in the High Street there were many other stores such as food or clothes ones.
The second day, on April 2nd, we went to a hop farm. We didn't do much shopping that day but at the exit of the hop farm there was a little souvenir shop where we could buy some little presents for our families.
The third day, on April 3rd, we went to London, the capital of England. We didn't do much shopping that day too but in the afternoon we had thirty minutes to visit Covent Garden. It's a district of London where there are lots of shops and a big covered square which used to be the old flower market of London.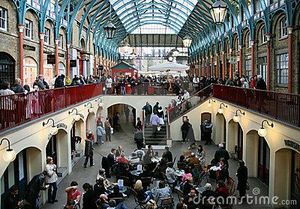 The fourth day on April 4th, we went to Oxford, the best city for shopping. From ten to three p.m to ten to five p.m, we were allowed to do the shopping in the High Street. It was so amazing !
The fifth day on April 5th, we drove to Brighton, where there were the sea and the Pier amusement park. All the day, we were free. We could buy food at Sainsbury's. It was the last day of our journey.
In all the shops, there were loads of gifts with the English flag on them and the Queen of course, because it's her Diamand Jubilee.
This trip was so great and nice !
Written by Ilona and Cassandre
Image Source : http://www.aroundcanterbury.co.uk
djibnet.com
it.dreamstime.com
aerialarts.com

Commentaires sur Shopping in England